St John's Wort 1.8g is a nervous system support formula containing St John's Wort traditionally known to support healthy mood.*
The compounds in St John's Wort have been used traditionally to:
Help maintain healthy emotional balance*
Support the body to cope with occasional stress of everyday life*
Help support healthy mood balance*
Help relieve occasional sleeplessness/restlessness*
Help relieve mild temporary nervous tension and stress*
St John's Wort 1.8g contains the naphthodianthrones hypericin and pseudohypericin (hypericins), flavonoids, phenolics and other compounds. This product is standardized to contain 900 mcg of hypericins and 18 mg of flavonoid glycosides per tablet to ensure optimal strength and quality.
St John's Wort Quality Story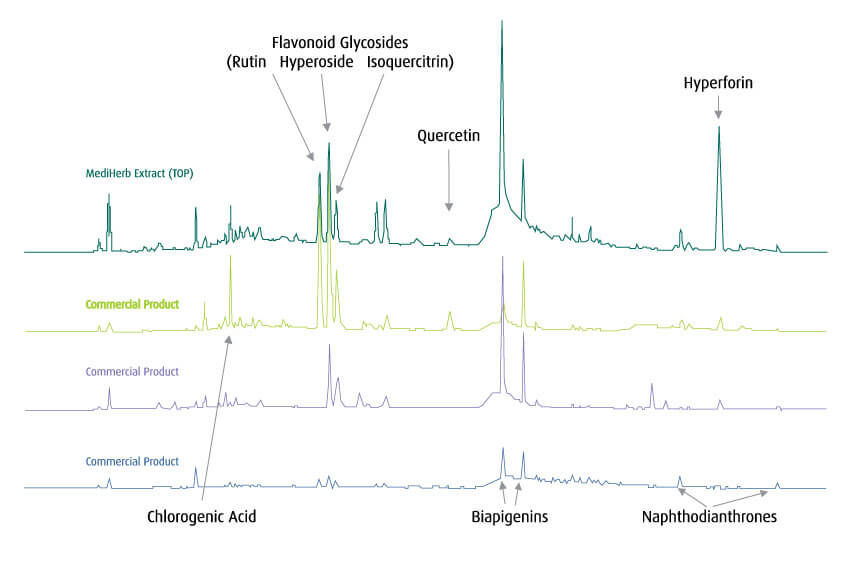 St John's Wort is comprised of a wide range of phytochemicals of which the naphthodianthrones (consisting mainly of hypericin and pseudohypericin) are characteristic, while several other constituents are found across a very wide variety of plant species; e.g., chlorogenic acid, flavonoids and biapigenins.
An animal study has shown that hypericin administered with flavonoid glycosides caused an increase in the bioavailability of hypericin. St John's Wort extracts containing the flavonoid glycosides but devoid of hypericin and hyperforin have been shown to be pharmacologically active in model systems. Additionally, extracts devoid of hyperforin have been proven effective in clinical trials as have extracts containing hyperforin. In the graph, all extracts contained the same level of napthodianthrones (hypericins), however a wide range of variation was shown for the other constituents when analyzed by HPLC – some extracts having very low levels of all the phytochemicals you would expect in a good quality extract of Hypericum perforatum. MediHerb recognizes the importance of all the other constituents, particularly the OPCs and flavonoids and tests all its products using the techniques which allow the identification of these components.
Suggested Use:
1 tablet 2 – 3 times daily, or as directed.
For other contraindications and cautions, please refer to the Potential Herb-Drug Interactions Chart. The chart can be found here: Potential Herb-Drug Interactions Chart
Nutrients & Ingredients:
Each Serving Size (1 Tablet) contains: Calcium 87 mg, St John's Wort herb flowering top 6:1 extract 300 mg (from Hypericum perforatum herb flowering top 1.8 g, Containing hypericins 900 mcg, Containing flavonoid glycosides 18 mg). Other Ingredients: Dibasic calcium phosphate dihydrate, microcrystalline cellulose, sodium starch glycolate, maltodextrin, hypromellose, silicon dioxide and magnesium stearate.
---
Please consult the actual product label for the most accurate product information.