Immuplex® is a daily supplement supporting a healthy immune system response through a blend of essential micronutrients & minerals, & contains specialized extracts.*
Supports the immune system*
Supports a healthy immune system response function*
Helps maintain normal white blood cell activity already within a normal range*
Contains Protomorphogen™ & Cytosol™ extracts
Supports the body's normal inflammatory response function*
Provides ingredients with antioxidant activity
Excellent source of zinc, iron, copper, chromium, folate and vitamins A, B6, and B12 and antioxidant vitamins C and E
Good source of selenium
The Benefits of Immune System Support
Maintaining a healthy immune system helps the body defend itself when faced with challenges. Inflammation is a key part of the immune response by reacting to stimuli and responding accordingly. Increased cytokine production is part of a normal inflammatory response. However, consistently elevated cytokines in the absence of a trigger can lead to an overactivated immune response.*
In cell culture studies, Immuplex® was shown to affect cytokine production, including IL-8, IL-10, TNFα, and IFNy, indicating its role in mediating T-lymphocyte inflammation.1
How Immuplex® Works to Support Your Immune System
Immuplex® contains several micronutrients that function to support the body's normal inflammatory response.* They also work synergistically in the immune response, and many are critical for antibody production.
These micronutrients include zinc, selenium, vitamin C and vitamin E. They exhibit antioxidant properties which may help support oxidant-mediated inflammation2-3 and are essential players in a healthy immune system response.4-6
Vitamins B6, E, A, and C — also found in Immuplex® — may support healthy white blood cell function. White blood cells are vital components of the immune system.7,8
This information is organized in the table below.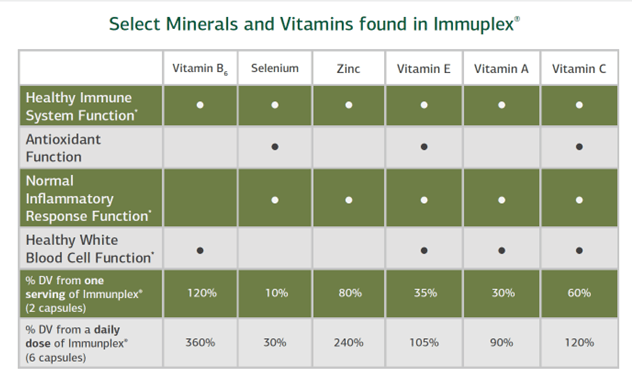 Frequently Asked Questions
Citations:
Hanlon, P.R., Robbins, M.G., Scholl, C., Barnes, D.M. (2009). BMC Complem Altern M, 9:51.
Arulselvan, P., et al. Oxid Med Cell Longev 2016, 5276130 (2016).
Conner, E.M. & Grisham, M.B. Nutrition 12, 274-277 (1996).
Lenhart, J.G., Vu, P.T., Quackenbush, K., LaPorte, A. & Smith, J. PLoS One 15, e0237491 (2020).
Kielczykowska, M., Kocot, J., Pazdzior, M. & Musik, I. Adv Clin Exp Med 27, 245-255 (2018).
Bendich, A. J Dairy Sci 76, 2789-2794 (1993).
Carr, A.C. & Maggini, S. Nutrients 9(2017).
van Gorkom, G.N.Y., et al. Antioxidants (Basel) 7(2018).
Kielczykowska, M., Kocot, J., Pazdzior, M. & Musik, I. Adv Clin Exp Med 27, 245-255 (2018).
Guillin, O.M., Vindry, C., Ohlmann, T. & Chavatte, L. Nutrients 11(2019).
Avery, J.C. & Hoffmann, P.R Nutrients 10(2018).
Huang, Z., Rose, A.H. & Hoffmann, P.R. Antioxid Redox Signal 16, 705-743 (2012).
Thomson, C.D. Eur J Clin Nutr 58, 391-402 (2004).
Hojyo, S. & Fukada, T. J Immunol Res 2016, 6762343 (2016).
Bonaventura, P., Benedetti, G., Albarede, F. & Miossec, P. Autoimmun Rev 14, 277-285 (2015).
Shankar, A.H. & Prasad, A.S. The American journal of clinical nutrition 68, 447s-463s (1998).
Rink, L. & Gabriel, P. Proc Nutr Soc 59, 541-552 (2000).
Gao, H., Dai, W., Zhao, L., Min, J. & Wang, F. Journal of immunology research 2018, 6872621 (2018).
Maywald, M., Wessels, I. & Rink, L.. International journal of molecular sciences 18(2017).
Wessels, I., Maywald, M. & Rink, L. Nutrients 9(2017).
Lewis, E.D., Meydani, S.N. & Wu, D. IUBMB Life 71, 487-494 (2019).
Lee, G.Y. & Han, S.N. Nutrients 10(2018).
Wintergerst, E.S., Maggini, S. & Hornig, D.H. Ann Nutr Metab 51, 301-323 (2007).
Suggested Use:
Two capsules per meal, or as directed.
Caution: This product is processed in a facility that manufactures other products containing soy, milk, egg, wheat, peanut, tree nuts, fish, and shellfish.
Nutrients & Ingredients:
Each Serving Size (2 Capsules) contains: Cholesterol <5 mg, Vitamin A 300 mcg RAE, Vitamin C 54 mg, Vitamin E 4.9 mg, Vitamin B6 2 mg, Folate (200 mcg folic acid) 335 mcg DFE, Vitamin B12 2 mcg, Iron 5 mg, Zinc 9 mg, Selenium 6 mcg, Copper 0.2 mg, Chromium 30 mcg, Sodium 25 mg. Proprietary Blend 538 mg: Bovine liver PMG™ extract, veal bone PMG™ extract, nutritional yeast, bovine spleen PMG™ extract, bovine thymus PMG™ extract, bovine thymus Cytosol™ extract, bovine liver, bovine spleen, and ovine spleen. Other Ingredients: Gelatin, zinc amino acid (rice) chelate, ascorbic acid, iron amino acid (rice) chelate, chromium yeast, water, modified tapioca starch, d-alpha tocopherol (vitamin E sunflower), selenium yeast, copper amino acid (rice) chelate, pyridoxine hydrochloride, modified corn starch, dicalcium phosphate, calcium stearate, vitamin A palmitate, sucrose, folic acid, and cyanocobalamin.
---
Please consult the actual product label for the most accurate product information.