Sinus Forte contains Eyebright, Golden Rod, Echinacea, Golden Seal and Cayenne to support the nose, sinuses and healthy upper respiratory mucous membranes.*
These herbs have been traditionally used in herbal preparations to:
Maintain healthy and normal mucus secretion in nasal passages*
Support healthy mucous membranes (particularly of the nose and sinus)*
Assist in maintaining healthy breathing passages to support normal breathing*
Support outer ocular health*
The five powerful herbs in Sinus Forte contain iridoid glycosides (especially aucubin), saponins, flavonoids, diterpenoid lactones, caffeic acid derivatives (especially cichoric acid), alkylamides, alkaloids (especially hydrastine and berberine), pungent principles (particularly capsaicin), carotenoids and other compounds.
Golden Seal Quality Story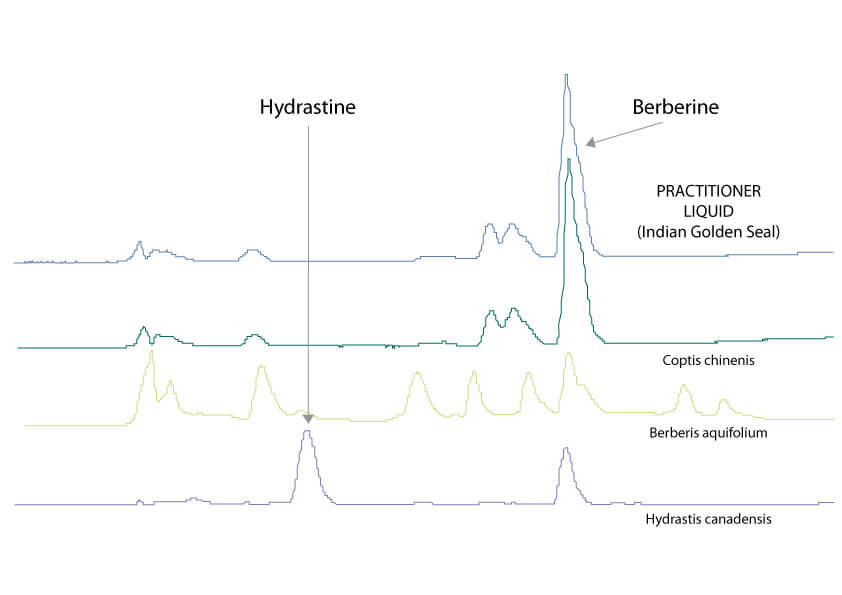 Golden Seal (Hydrastis canadensis) is an endangered herb and as a result is very expensive and often substituted with other herbs.
The substituted herbs usually contain the substance berberine which provides the yellow color, but they do not contain hydrastine which is unique to Golden Seal. Only HPLC enables this differentiation to be made. MediHerb only buys cultivated Golden Seal to ensure long term sustainability of the herb. MediHerb tests each batch of Golden Seal raw material and finished product to ensure the claimed levels of hydrastine and berberine are present. Using HPLC, MediHerb is able to clearly differentiate true Golden Seal from other berberine-containing herbs. The table demonstrates the difference between the various berberine-containing species. The top trace is an example of substitution where a professional product being sold in Australia as Indian Golden Seal matched the trace of Coptis chinensis.
Echinacea Quality Story
The Important Constituents
Echinacea is the most widely used herb and the most misunderstood. MediHerb has for many years invested heavily into research on Echinacea to identify quality markers that are important for clinical use. The levels of the phenolic acid esters, e.g. echinacoside, are commonly used by many manufacturers as marker compounds or indicators of Echinacea quality. However, recent trials have highlighted the significance of alkylamides for clinical efficacy, hence it is important that quality products are characterized for these phytochemicals as well. This has led to the incorporation of a specification and analytical test methodology for Echinacea products in the USP26-NF21 draft monographs which focuses on alkylamides tested by HPLC and DAD detection. The alkylamides being tested are the 2,4-diene alkylamides and the 2-ene alkylamides.
This method has been adopted by MediHerb and the alkylamides are determined as 2,4-diene alkylamides and 2-ene alkylamides. The 2-enes are characteristic of Echinacea angustifolia and are not found in the other species. The 2,4-dienes are found in both E. purpurea and E. angustifolia and these phytochemicals are responsible for the intense tingling sensation in the mouth when tasting good quality Echinacea products.
The phenolic acids are determined as the levels of caftaric acid, echinacoside and cichoric acid; echinacoside is typical of E. angustifolia and E. pallida roots and is not found in E. purpurea. Cichoric acid is not found in E. angustifolia root, but is found in the aerial parts of all species and characteristically in the root of E. purpurea.
MediHerb products are quantified to contain a minimum level of alkylamides by the USP26-NF21 HPLC method, the levels of phenolic acids are measured for information only and are used to confirm product identity and the absence of contamination from other Echinacea species.
The MediHerb Difference
MediHerb has developed specialized knowledge in the manufacture and testing of Echinacea products over the past 20 years. This includes a PhD study, extensive analytical method development, establishment of optimal harvesting, drying and storage protocols to maximize retention of actives and a successful clinical trial.
Suggested Use:
1 tablet 3 – 4 times daily, or as directed.
For other contraindications and cautions, please refer to the Potential Herb-Drug Interactions Chart. The chart can be found here: Potential Herb-Drug Interactions Chart
Nutrients & Ingredients:
Each Serving Size (1 Tablet) contains: Eyebright herb 4:1 extract 162. 5 mg (from Euphrasia officinalis herb 650 mg), Golden Rod herb 4:1 extract 162.5 mg (from Solidago virgaurea herb 650 mg), Echinacea root 4:1 extract 92.5 mg (from Echinacea purpurea root 370 mg), Golden Seal root & rhizome 1.8:1 extract 69.5 mg (from Hydrastis canadensis root & rhizome 125 mg), Cayenne fruit 3:1 extract 3.33 mg (from Capsicum annuum fruit 10 mg). Other Ingredients: Microcrystalline cellulose, maltodextrin, dibasic calcium phosphate dihydrate, croscarmellose sodium, sodium starch glycolate, silicon dioxide, magnesium stearate, and hypromellose.
---
Please consult the actual product label for the most accurate product information.