FemCo contains Shatavari, Schisandra, and White Peony for female vitality and reproductive support.*
These herbs have been traditionally used in herbal preparations to:
Support normal reproductive function in women*
Ease the effects of mild cramping associated with menstruation*
Encourage healthy menstrual cycling*
Support women's general well-being and vitality*
This combination of herbs in FemCo contains many compounds including the monoterpene glycoside paeoniflorin, steroidal saponins (such as shatavarin-I and dioscin) and dibenzocyclooctene lignans.
White Peony Quality Story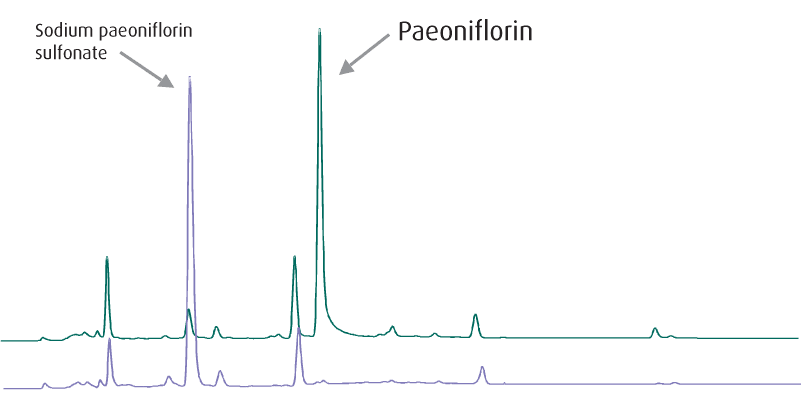 Paeonia lactiflora, or White Peony, is a widely used herb in Traditional Chinese Medicine and as is common in this modality, herbs are often treated in many different ways to produce a more palatable or efficacious product. The important plant part is the root, which as it occurs naturally is approximately 1 to 2 cm round cylindrical roots, varying in color from off-white to pinky-brown. Much of the Paeonia root which used in commerce is in the form of pure white root slices, which have been treated by sulphiting agents to preserve the plant material's appearance, by reduction of enzymatic browning. This treatment also has the side effect of reacting with the main bioactive compound from Paeonia (paeoniflorin – a complex monoterpene glycoside) and forming a stable new compound sodium paeoniflorin sulfonate. This is readily seen by HPLC where the peak from paeoniflorin is absent in the herb which has been treated by sulphiting (bottom trace), whereas it is the major component in the untreated herb (top trace).
Suggested Use:
1 tablet 3 – 4 times daily, or as directed.
For other contraindications and cautions, please refer to the Potential Herb-Drug Interactions Chart. The chart can be found here: Potential Herb-Drug Interactions Chart
Caution: Not to be used during pregnancy and lactation unless otherwise directed by a qualified health care professional. For other contraindications and cautions consult your health care professional. This product is packaged in a facility that manufactures other products containing soy, milk, egg, wheat, peanut tree nuts, fish, and shellfish. Keep out of reach of children. Store in a cool, dry place out of direct sunlight.
Nutrients & Ingredients:
Each Serving Size (1 Tablet) contains: Calcium 79 mg, Schisandra fruit 6:1 extract 166.6 mg (from Schisandra chinensis fruit 1.0 g), White Peony root 4:1 extract 187.5 mg (from Paeonia lactiflora root 750 mg), Shatavari root 6:1 extract 100 mg (from Asparagus racemosus root 600 mg). Other Ingredients: Dibasic calcium phosphate dihydrate, microcrystalline cellulose, croscarmellose sodium, sodium starch glycolate, hypromellose, magnesium stearate and silicon dioxide.
---
Please consult the actual product label for the most accurate product information.